Arty's Sweet Talk Cupcakes: From bitter challenges to sweet success
Artaynia Westfall, owner of Arty's Sweet Talk Cupcakes, a Black, women-owned cupcake boutique was recently featured at a Milwaukee Bucks NBA game for BMO's Share the Limelight program. Through this program, BMO showcases minority owned businesses during games at the United Center in Chicago and the Fiserv Forum in Milwaukee for a full advertising takeover to elevate their awareness and expand their reach to fans and the community. The program is aligned with BMO EMpower 2.0, BMO's commitment of more than 40+ billion to drive meaningful financial progress and champion racial equity.
Before the game, Artaynia and her daughters were treated to a full breakfast buffet at the Bucks North Suite. The group was then escorted to the court where branding and creative of Arty's Sweet Talk Cupcakes took over all the LED assets inside the arena.
---
"It was really exciting to see all of my signage. It was a moment, as an entrepreneur, to relish in the fact that I'm special enough to be honored on this platform and that I have the opportunity to continue my partnerships and grow my business."
– said Artaynia Westfall
Owner, Arty's Swett Talk Cupcakes
---
In addition to promoting her business on the court, BMO purchased cupcakes to display in the Board Room, Bucks suite and BMO suite, providing additional exposure through product samplings for fans to enjoy.
At half time, Artaynia and her daughters were recognized on center-court where, to her surprise, BMO and the Bucks presented Artaynia with a $10,000 grant for her business.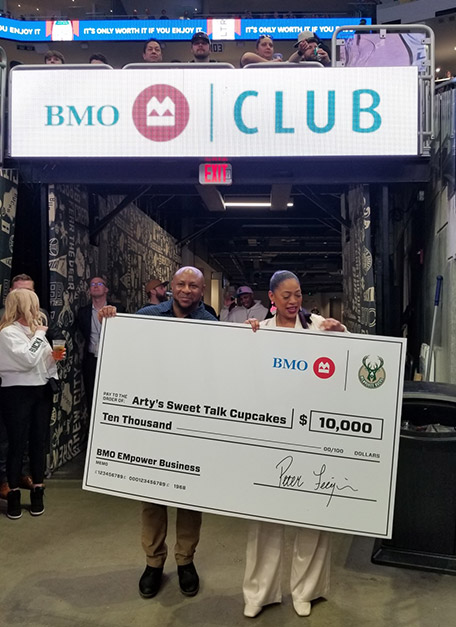 Since opening her shop in 2019, Artaynia has banked with BMO at her local branch in Wauwatosa, Wisconsin, alongside Dietrich Glenn, BMO Relationship Manager. "BMO has been instrumental in supporting me before I started my business through its growth," she said. Recently, Artanyia faced challenges with her lease and flooding in her building that resulted in losing her business space and a significant amount of personal investment in the business.
"This newfound blessing is much needed," she said. "I did take quite a hit recently, so this grant will be able to help me initially pay some licensing fees, inventory and find a space I can open later this year."
With this recent exposure and financial support, Arty's Sweet Talk Cupcakes has the momentum to continue sweet success and surpass the bitter challenges that have limited Artaynia's growth as a business owner.
"This opportunity not only made me believe in myself a little bit more," she said, "but gave me the platform to be able to show other people they can do it, too."