Celebrating local small businesses at the second season opening of the Berwyn Shops: A Homegrown Project
BMO helped welcome 12 local women-owned, Latinx-owned or LGBTQIA+-allied small businesses to the 2023 season opening of the Berwyn Shops: A Homegrown Project. Now in its second season in suburban Cook County, Berwyn's retail incubator project features 12 cottage-style shops providing opportunities for local businesses that lack access to a storefront, business education, promotion, and other resources needed to thrive.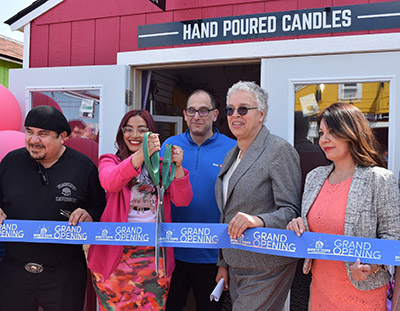 To help pop-up vendors, online makers, and home-based business, BMO also supports Berwyn Sprout: A Homegrown Project, a shared retail space designed to give local entrepreneurs the opportunity to grow their business at a physical location. Along with a storefront, participants of the projects are paired with the Women's Business Development Center to receive financial advising, education and marketing support for their businesses.
Both projects are designed to help remove barriers to entry for local business owners and give community members an introduction to future business tenants. At the conclusion of the 2022 season, two vendors secured a permanent storefront, and three others enjoy a shared space at Berwyn Sprout.
The Berwyn shops is open May through December for all Chicagoland residents to enjoy. Chosen by a jury of 13 local volunteer business owners and community members, vendors will showcase products including baked goods, botanic arrangements, hand-poured candles, jewelry and accessories, personal care products and apparel. For a full list of this year's vendors, check out the Berwyn Shops website.
BMO is proud to support the Berwyn Shops and Berwyn Sprout in their mission of driving equity and supporting the local economy.