Breaking down the racial wealth gap as a first-time homebuyer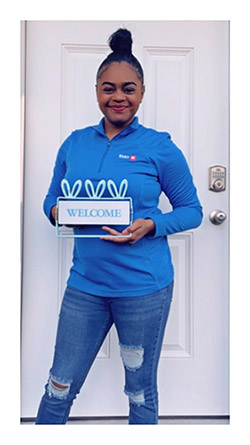 When Kanesha Jenkins, a Retail Relationship Banker at BMO's branch in Belleville, Illinois received a notice last October that new buyers were terminating her lease for the construction of a senior living facility, she decided to look into purchasing a new house as a first-time homebuyer. As a BMO employee, she was excited to go through the process at BMO and was paired with Michelle Luviano, a Mortgage Banker based in Naperville, Illinois to walk her through each step. 
Kanesha was accepted for pre-approval within 11 days and was on the search to secure her new home. In the process, she learned that her hometown of Belville was considered an area for low- to moderate-income-based customers and qualified for BMO's CRA program. Tina Hobbs, Homebuyer Specialist, was able to work with Kanesha to share information about the grants she qualified for to help with down payment assistance. 
---
"As an employee, I know that BMO is focused on providing quality financial advice and support," says Kanesha. "As a customer, I was thrilled with the time that my bankers at BMO took to work with me to make the homebuying process attainable and less intimidating." 
– Kanesha Jenkins
Retail Relationship Banker, BMO
---
Kanesha received $9,000 in layered down payment assistance from BMO's Welcome Home Grant, a program that offers assistance to borrowers purchasing a primary residence in low- or moderate-income census tracts in designated counties. She also received a closing cost discount through the BMO Fall Special and assistance from the Illinois Housing Development Authority's affordable lending program, which enables a path to homeownership for families across Illinois. After finding the home of her dreams, Kanesha was able to close and received her keys by early December. Because of the assistance she received through BMO's programs, Kanesha only had to bring $127 in closing costs to finalize her deal.
Due to her low closing costs, Kanesha was able to use her savings to purchase furniture and secure her upcoming mortgage payments well in advance.
"For generations, my family experienced a history of poverty, and I was eager to break this pattern and begin to build equity," says Kanesha.
BMO's support continued after Kanesha purchased her home. She is in constant communication with her mortgage banker and has been having weekly meetings about her new responsibilities as a homeowner.
"This journey made me respect BMO so much more as a company that stands for what they say," she says. "BMO is a bank of its word."
At 26 years old, Kanesha is the youngest person in her family to purchase a home. She's living with her fiancé, daughter and their new puppy.
"This is something very powerful to me," Kanesha said. "I'm setting an example of stability for my family and I am creating wealth to pass onto the next generation."
Find out more about the ways BMO is helping to break down the racial wealth gap.