BMO survey results show reliance on digital banking continues to rise in U.S.
BMO recently announced the results of our 2023 Digital Banking Survey, highlighting North Americans' reliance on, and attitudes toward, the digital banking capabilities available to them. The survey, conducted in Canada and the U.S. in partnership with Pollara, found that reliance on digital banking is continuing to rise in North America.
Here are the topline finds followed by a list of digital capabilities that can help consumers make real financial progress.
Half of Americans (50 per cent) said they plan to use digital banking more in 2023, for activities such as increasing deposits, transferring funds, and viewing statements.
Nearly half of Millennials and Gen Z (45 per cent) say digital banking is the only way they bank.
Most Americans (59 per cent) want access to financial literacy tools and resources within their digital banking apps, with 74 per cent of those ages 18-34 saying that's important.
Americans reported that access to digital banking is nearly as important as a car, with only 34 per cent saying they could live without it for less than a day (compared to 38 per cent saying they could live without a vehicle).
87 per cent of Americans agree that an easy-to-use, safe platform is the number-one capability they want from their digital banking app or website.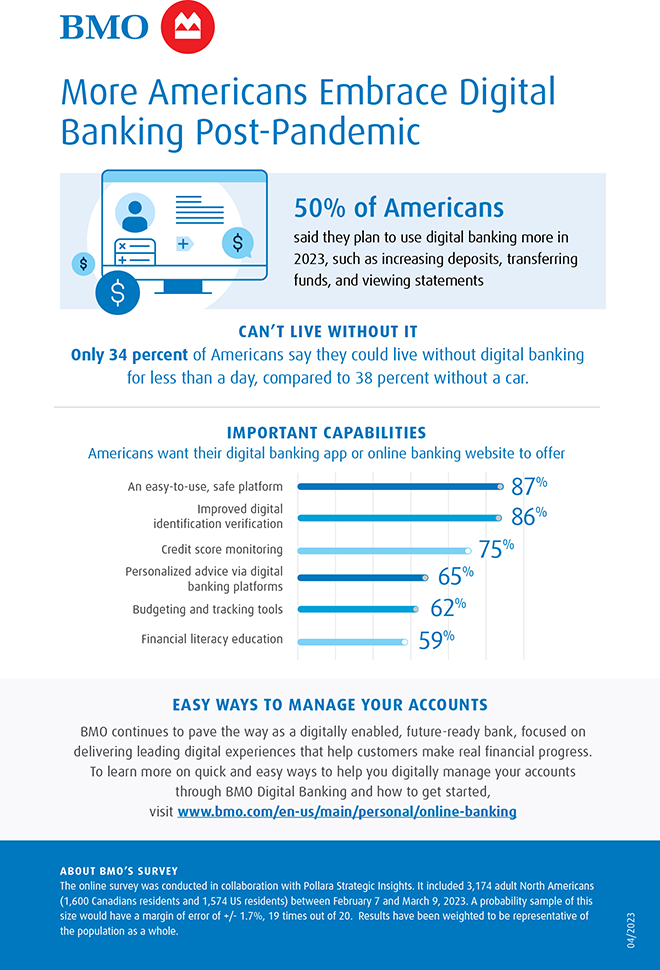 BMO's Digital Banking Capabilities
We've got innovative digital banking features that can help customers make real financial progress:
BMO Bill Pay: Allows customers to set up automatic payments, schedule payments in advance and analyze spending habits with simple account statements and money management tools.
BMO Total Look: Customers can easily view, track and manage their BMO and non-BMO financial information, from checking and savings accounts to credit cards, investments, loans and mortgages.
BMO Assist: An AI-augmented platform blending the best of human emotion and empathy with the speed and efficiency of computer intelligence, which allows customers to ask banking-related questions via chatbot and/or live chat with a banker during business hours.
To read more about the findings of BMO's Digital Banking Survey, check out the press release.