BMO hosts Gender Equity in Soccer Panels ahead of FIFA Women's World Cup 2023™
As the North American Bank of Soccer, BMO recently announced our new partnership as the Official Supporter of FIFA Women's World Cup 2023™ in North America. With much anticipation for the start of the tournament, which begins in Australia and New Zealand on July 20, BMO kicked off our own countdown with two panel events – one in the U.S. and one in Canada – featuring some legendary women of soccer. The panel discussions focused on the progress of equity in the sport – both on and off the field – and how the FIFA Women's World Cup 2023 is helping to drive positive change.
The first panel was held in Los Angeles, California at BMO Stadium, the home of Los Angeles Football Club (LAFC) and Angel City Football Club (ACFC). The panel included U.S. Women's National Soccer Team (USWNT) and ACFC star and two-time FIFA Women's World Cup champion Christen Press, former USWNT head coach of 2015 and 2019 FIFA Women's World Cup winning teams Jill Ellis, and Sonya Kunkel, Head, Loyalty and Sponsorship Marketing, BMO. The panel was moderated by former USWNT player and two-time Olympian, Danielle Slaton.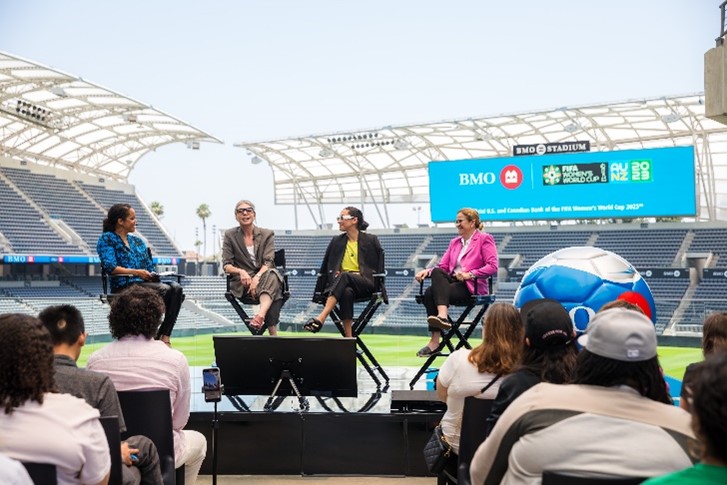 The second panel was held in Toronto, Ontario at BMO Field, the home of Toronto Football Club (TFC) and Canada's first Women in Soccer Fellowship. The panel included CEO of Canadian Women and Sport, Allison Sandmeyer-Graves, Canadian National Women's Soccer Team (CNWT) and Portland Thorns Football Club player, Olympic Gold and Bronze medalist Janine Beckie, and Sonya Kunkel, Head, Loyalty and Sponsorship Marketing, BMO. The panel was moderated by SportsCentre anchor, co-producer and host of The Shift on TSN, Kayla Grey.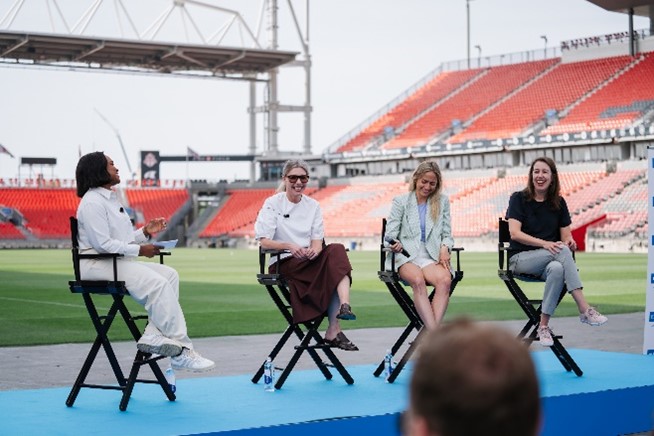 Why are these conversations important – and why now? Women's soccer and its audience is growing at an exponential rate, yet there's still progress to be made towards equity.
The conversation during the panels was inspiring and thought provoking. Panelists shared the historic journey to work towards equity, and expressed optimism for the future. At the Toronto event, Sonya Kunkel spoke about BMO's investment of over CAD$25 million to engage, develop and cultivate youth soccer at every level of competition across Canada since 2005, supporting 250,000 youth athletes in the sport. Sonya shared that we won't stop there; we are investing with our partners everyday to support this future generation of talent.
The panels ended in huge applause, and audience members were keen to take pictures with legendary soccer stars Jill Ellis, Christen Press and Janine Beckie! To support the athletes, tune in to the FIFA Women's World Cup 2023™ tournament, which will be broadcast from July 20 to August 20. We look forward to cheering on the athletes on the greatest stage, in just a few weeks!
---
[1] FIFA Women's World Cup 2019TM watched by more than 1 billion. FIFA. (2019, October 18). https://www.fifa.com/tournaments/womens/womensworldcup/france2019/news/fifa-women-s-world-cup-2019tm-watched-by-more-than-1-billion
[2] Women's World Cup TV audience 2023. Statista. (2023, July 6). https://www.statista.com/statistics/1386733/womens-world-cup-total-tv-viewership/#:~:text=Ahead%20of%20the%20tournament%2C%20the,quarter%20of%20the%20global%20population
[3] Women's World Cup ticket sales pass 1 million, exceeding France 2019 total – FIFA. ESPN. (2023, June 8). https://www.espn.com/soccer/story/_/id/37821468/2023-womens-world-cup-ticket-sales-pass-1-million-exceeding-2019-total
[4] Women's World Cup: Fox sets ad sales record pace as BBC says it is 'committed' to UK TV deal. SportsPro Media. (2023, June 14). https://www.sportspromedia.com/news/fifa-womens-world-cup-tv-fox-bbc-itv-advertising-sales/?zephr_sso_ott=pU1kel
[5] 2023 Women's World Cup prize money: FIFA unveils new payment model, announces record breaking ticket sales. CBS. (2023, June 9). https://www.cbssports.com/soccer/news/2023-womens-world-cup-prize-money-fifa-unveils-new-payment-model-announces-record-breaking-ticket-sales/