BMO celebrates kickoff of the 2023 soccer season at 'BMO Stadium' in Los Angeles, California
On March 4, 2023, BMO celebrated the home opener of Los Angeles Football Club (LAFC), as well as Angel City Football Club's (ACFC) upcoming season, at the newly renamed BMO Stadium in Los Angeles. The 2022 MLS Cup and Supporters' Shield Champions LAFC look to defend their title at BMO Stadium this season, while Angel City FC looks to build upon the success of their inaugural season in the National Women's Soccer League (NWSL).
As The Bank of Soccer, BMO has partnered with two organizations, LAFC and ACFC, that share a vision for the sport, to help grow the game across North America. BMO's support will help deliver a world-class experience at BMO Stadium and connect the bank with new fans and audiences. As the Exclusive and Official Bank of LAFC and a Founding Partner of ACFC, BMO will be supporting L.A. soccer fans and progress in the community throughout the season.
---
"We are thrilled to be part of the new soccer season kicking off at beautiful BMO Stadium. As The Bank of Soccer, we're excited to share BMO's passion for the game with LAFC, Angel City FC, the Los Angeles community and beyond. We wish both teams the best of luck on the pitch this season."
– Darryl White
CEO, BMO
---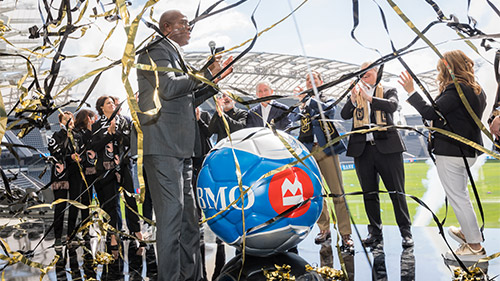 ---
"We are so excited to officially begin our partnership with BMO as we kick off the new season at BMO Stadium. The passion and commitment to the game and the community that we both share comes through in everything they do. BMO Stadium is the premier outdoor arena in the Heart of Los Angeles, and we will continue to work together to create more incredible lasting memories there."
– Larry Freedman
LAFC Co-President & CBO

---
"March 26 marks the next chapter of our journey, and we cannot wait to host our team and our incredible fans at the newly renamed BMO Stadium. As one of our newest partners, BMO has already demonstrated how committed they are to making an impact in the community. On opening day, BMO and ACFC are hosting an event for Girls Play L.A. with a free soccer clinic, a leadership panel, a stadium tour, and tickets to our home opener for 50 high school-aged participants."
– Julie Uhrman
Co-Founder and President, Angel City Football Club
---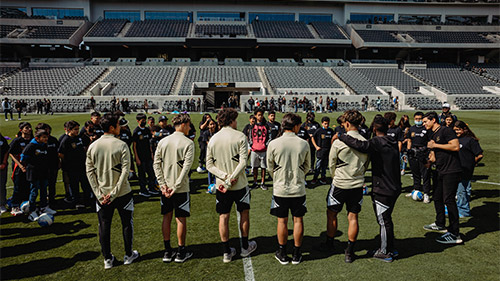 A kick-off celebration was held March 3, 2023, for the newly renamed BMO Stadium. BMO, LAFC, and Angel City FC leaders were joined by special guests Earvin "Magic" Johnson and Mia Hamm for the event. A youth soccer clinic, presented by BMO, was also held on the pitch for children from the Los Angeles Unified School District.
The celebration continued into the evening with an LAFC supporters' event at BMO Stadium. Supporters had the opportunity to enjoy food and drinks and connect with BMO leaders and other LAFC supporters. To culminate the evening, LAFC supporters were treated to a 500-drone light show above BMO Stadium. The performance was created by BMO to show support for the club, celebrate the start of a new season, and a new partnership at BMO Stadium.
For more information on tickets to LAFC or ACFC games or other events at BMO Stadium, visit BMO Stadium website.