Keeping it Milwaukee: How BMO is supporting a thriving minority-owned small business at Summerfest
Cesar Cornier, a Milwaukee-based rapper, music producer and designer, was influenced by his local community to create Keepnitmil, a hip-hop aesthetic streetwear company. In 2022, a desire to grow his business inspired Cesar to apply for a BMO EMpower grant, helping him elevate his business and expand his network at Summerfest.
This year, BMO is once again supporting minority-owned businesses at Summerfest through the BMO EMpower 2.0 grant program, which provides six minority-owned small businesses with the opportunity to be featured as a marketplace vendor during the festival.
In addition to a financial grant, BMO EMpower 2.0 recipients also have an opportunity to meet with a BMO relationship manager to discuss their financial needs and explore the various resources the bank offers to support their business. The experience culminates at a community partner event hosted by BMO leaders where the recipients engage in professional networking with local business community members.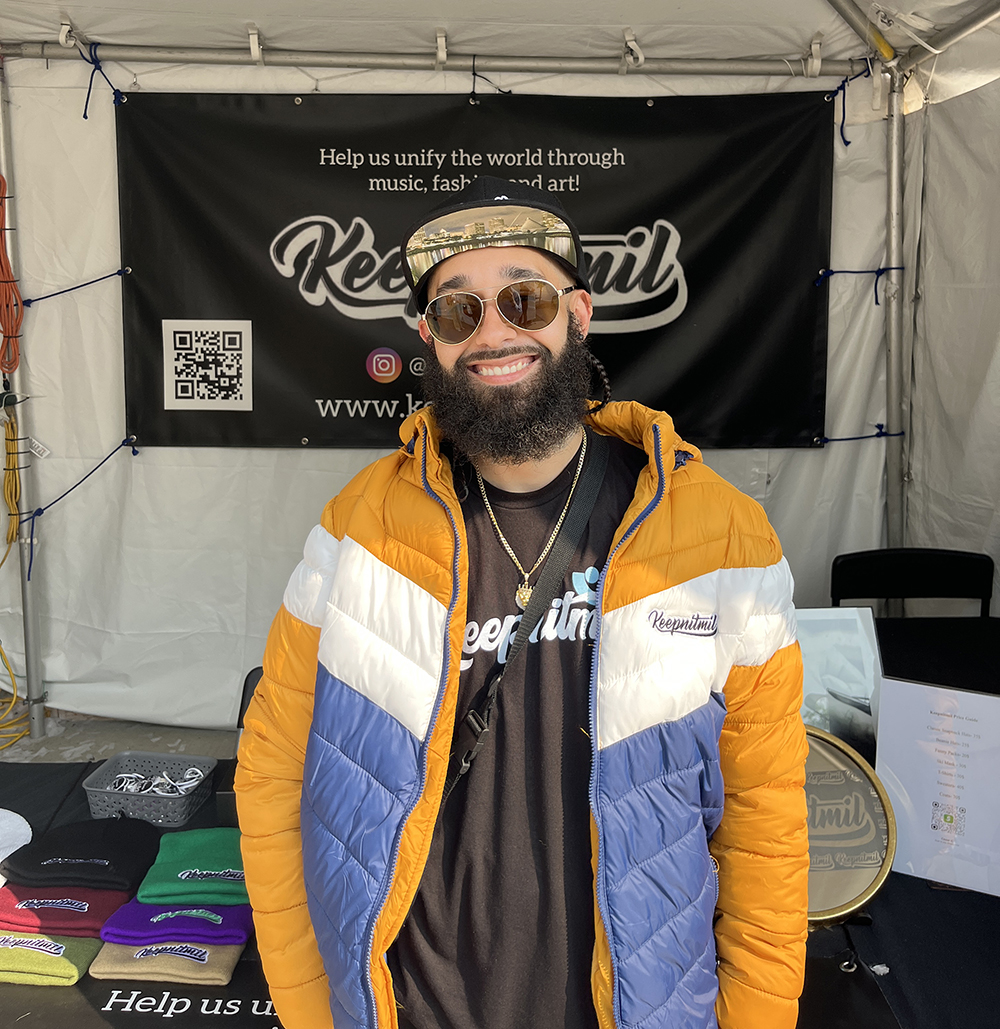 Before the EMpower grant, Cesar's relationship with BMO started early in his business career. When he needed to open a small business banking account, he wanted to choose a local bank that had a visible presence in the community.
---
"I felt supported when they told me I was chosen for the grant. My work highlighting Milwaukee, inclusivity and the empowerment of Black and Brown creatives felt like it was being recognized."
– Cesar Cornier
---
Cesar not only received valuable financial resources for Keepnitmil, but was also able to build relationships within the Milwaukee business community. "One thing that I really appreciate about BMO is how they helped build a community of Black and Brown local business owners," said Cesar. "Programs like the BMO EMpower grants have really helped creators take their businesses to the next level."
At this year's Summerfest, Cesar has an official partnership with the festival producing a special edition t-shirt reflecting a fusion between Summerfest's brand and Keepnitmil's aesthetic. The collaboration was inspired by Cesar's mission to help unify people through music, fashion and art.
The t-shirt is not the only thing bringing Cesar back to Summerfest this year. Cesar is also looking forward to taking advantage of BMO's financial literacy programs and attending a luncheon with past BMO EMpower grant recipients to network and build valuable business connections.
"The EMpower grant has been transformative for my business," said Cesar. "Because of BMO's support I can work to grow Keepnitmil and continue to share my passion for creativity and inclusivity."