Canada's Climate Change Plan Only the First Step on the Journey to Net Zero
Canada's Emissions Reduction Plan 2030 and the subsequent budget are critical to reaching net zero by the middle of the century, but they are only the first steps in the journey.
Now that we have a high-level road map with committed funding, the heavy lifting begins. As we design the systems of Canada's low-carbon future, we will need to identify, agree on, and address the real-world constraints to implementing this plan, and consider what trade-offs we will or will not accept.
We all understand why this is an especially important question for Canada. How will our resource economy be impacted by the net-zero transition, and how are we going to manage those impacts?
The budget, for example, underscores the importance of developing critical minerals, with up to $3.8 billion proposed to help develop the industry over the next eight years and make it a producer of key inputs to our clean energy future. What does that development look like? How many new and expanded projects need to be approved and what's our strategy to expedite management of the associated emissions and other social and environmental impacts? How as well are we planning to build out the full value chain of these minerals on Canadian soil?
The budget also commits $600 million to the Smart Renewables and Electrification Pathways Program and another $2.4 million to support national and regional electricity planning. A recent report by the Canadian Climate Institute demonstrates the opportunity in electricity underpinning Canada's climate progress and future prosperity, but outlines the social, political, and institutional barriers hindering the alignment of Canada's electricity sector with net zero.
Addressing these barriers may require trade-offs in how we manage risks, approvals, rates, carbon pricing backstops, and national energy planning.
Electrifying Canada's upcoming report explores opportunities for industry to incorporate electrification into their net-zero ambitions. The Budget hints at proposals to create the required enablers, but details are still sketchy as government grapples with non-technical challenges such as social acceptance and affordability concerns.
The Plan and Budget, together with the plethora of practical initiatives to identify implementation barriers and recommend solutions, are unprecedented. I have full confidence in the country's ability to execute on the transformative changes required, and in staying the course amidst administrative changes. But this won't lessen the work involved.
Difficult decisions lie ahead.

About Susan McGeachie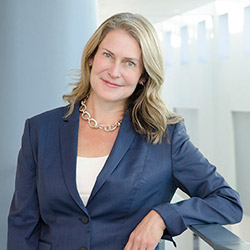 Susan McGeachie is head of the BMO Climate Institute, a centre of excellence that bridges climate policy and science with business strategy and finance to unlock solutions for both clients and the bank. She brings to this role over 20 years of experience identifying, evaluating, and managing climate change-related risks and strategic positioning opportunities. Following her years in ESG research and analytics, she held leadership positions in management and engineering consulting firms. Susan is an adjunct professor at the University of Toronto where she teaches a graduate course in climate finance, and a member of the Canadian Climate Governance Experts panel. In 2021 Susan was named one of twenty-six Canadian Climate Champions by the Canada Climate Law Initiative and the British High Commission ahead of COP26. In 2014 she was named to the Clean50 and Clean 16 lists of practitioners, which recognize contributions to advancing sustainable capitalism.