BMO EMpower exceeds first year targets with over $2 billion in commitments
BMO EMpower, the bank's five-year, $5 billion commitment to an inclusive economic recovery has already exceeded its early targets, with over $2 billion in commitments during the first year of the program.
"I'm incredibly proud of our employees who have embraced this effort and substantially over-achieved our first-year goals. BMO EMpower has truly galvanized our workforce and brought to life our purpose of boldly growing the good in business and life," said Dave Casper, U.S. CEO, BMO Financial Group. "While we're very happy with the progress of BMO EMpower to date, there is still plenty more work to do."
BMO also recognized the anniversary of BMO Empower with a virtual community event, "Accelerating Access to Capital: Building a More Inclusive Economy." A diverse group of community leaders, including representatives from The Chicago Community Trust, the Chicago Urban League, Hope Chicago and many others, came together to share their perspectives and strategies for creating a more equitable society. A recording of the event is available to view on the BMO EMpower website.
Early BMO EMpower highlights include:
A $25 million investment into the Bridge Workforce Affordable Housing Fund, which is focused on community revitalization.
A $20 million commitment to the NEF Emerging Minority Development Fund, which will provide equity capital to minority developers of affordable housing.
A $10 million donation to Rush University Medical Center in Chicago to create the RUSH BMO Institute for Health Equity.
The recent expansion of the BMO for Black and Latinx Small Business program throughout the bank's U.S. footprint. Over $12 million in capital was allocated to over 300 small businesses in Illinois during the its pilot stage, and the success of the Black and Latinx program also led to the launch of the BMO for Women initiative throughout BMO's U.S. footprint.
Check out the graphic for a full 12-month progress report for each of the six BMO EMpower pillars: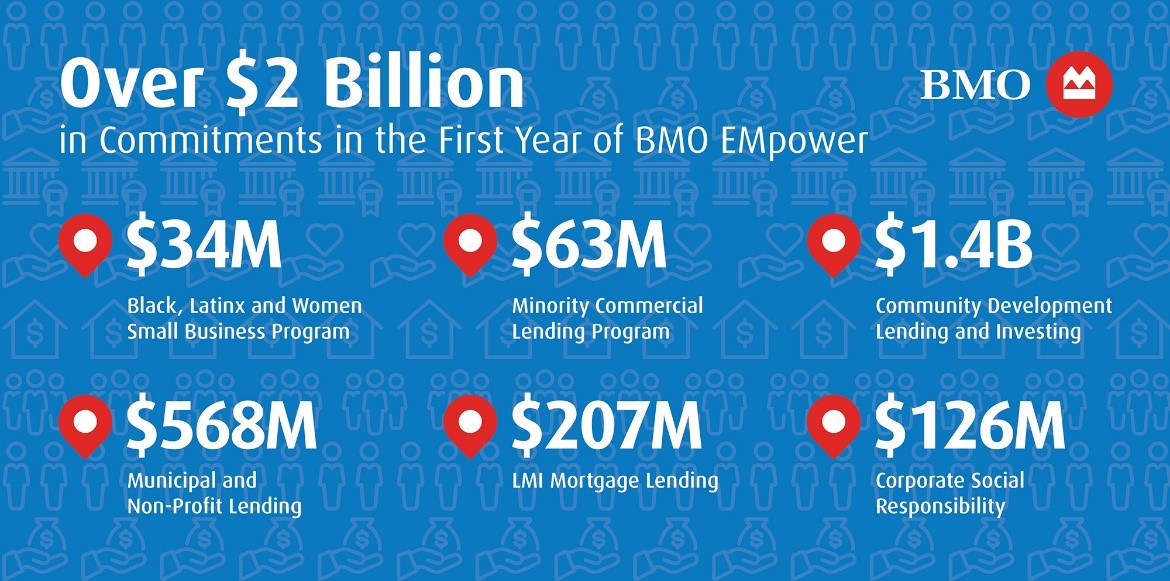 "When we launched BMO EMpower 12 months ago, we set out to address the very real barriers faced by minority communities, particularly related to access to capital and racial injustice," added Eric Smith, Vice Chairman, BMO Harris Bank. "We will continue to focus on making a meaningful impact in traditionally underserved neighborhoods."
At BMO, our commitment to zero barriers to inclusion is helping to deliver value far beyond the bottom line. BMO EMpower is a key component of our responsibility to respond to the demands of the rapidly changing economic and social landscape by creating meaningful and powerful change.