Advancing tomorrow's financial leaders with Back2Business™ Return-to-Work Program
BMO is proud to support the Financial Women's Association (FWA) with its Back2Business™ return-to-work program. This unique program offers all genders an opportunity to restart their careers and transition back to professional life in financial services after taking a break for reasons including—but not limited to—providing childcare or eldercare, serving in the armed forces, being in transition prior to or due to the pandemic, or homeschooling.
As one of four sponsoring companies, BMO will offer return-to-work opportunities in our Capital Markets group. Working with partners like the Financial Women's Association is an important part of BMO's ongoing commitment to gender equity. The FWA has been dedicated to promoting the professional development and advancement of all women through education, mentorship, scholarships, networking, and alliances across the financial community for more than 65 years.
---
"As the Back2Business™ program enters its sixth year, I'm proud of the FWA and our outstanding corporate sponsors for continuing to support a variety of talented individuals to restart their careers in financial services. Our four remarkable corporate sponsors provide mentorship, training and networking opportunities that support today's professionals and advance tomorrow's leaders in financial services."
– Nina Batson, President of the Financial Women's Association
---
About the program
Back2Business™ will accept applications for a wide variety of opportunities within financial services, affording the chance to work on a significant assignment or project that could lead to a full-time position.
Those chosen to participate will receive support for relevant coursework and guidance to re-establish certifications, mentorship support from both the FWA and company he/she will be working with; and a one-year paid FWA membership to attend various events designed to broaden horizons, enhance professional skills and re-establish one's professional network. Candidates must have a minimum of five years of professional experience in the financial services industry and have been out of the full-time workforce for at least 18 months. Check out the complete program information and requirements.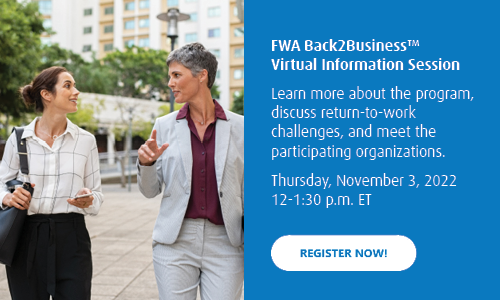 With partners like FWA and programs like Back2Business™, we're making meaningful progress toward a future with Zero Barriers to Inclusion.